While SUVs have most automakers working overtime these days, Honda doubled down for 2022 with a full redesign of the car that arguably brought it to the party in the U.S. market: the Civic compact sedan.
Related: 2022 Honda Civic Starts at $22,695, Packs Much More for Just a Tad More
Not that the automaker ignored its SUVs: The mid-size, five-seat Passport was freshened with a more rugged face and new Adventure trim level to distance it a little more from the family persona of its sibling SUV, the three-row Pilot. 
Changes are mild for the rest of the Honda lineup. Here's a look at what else is new from the automaker for 2022.
Cars
The Accord mid-size sedan got a light freshening for 2021 and replaced the gasoline version's EX trim level with a Sport SE model. The related Accord Hybrid follows that lead for 2022 with a Sport trim level replacing the EX. The hybrid's newest trim includes features like 19-inch alloy wheels, a black rear spoiler, LED headlamps and foglights, wireless Apple CarPlay and Android Auto integration, heated front seats and an eight-speaker audio system.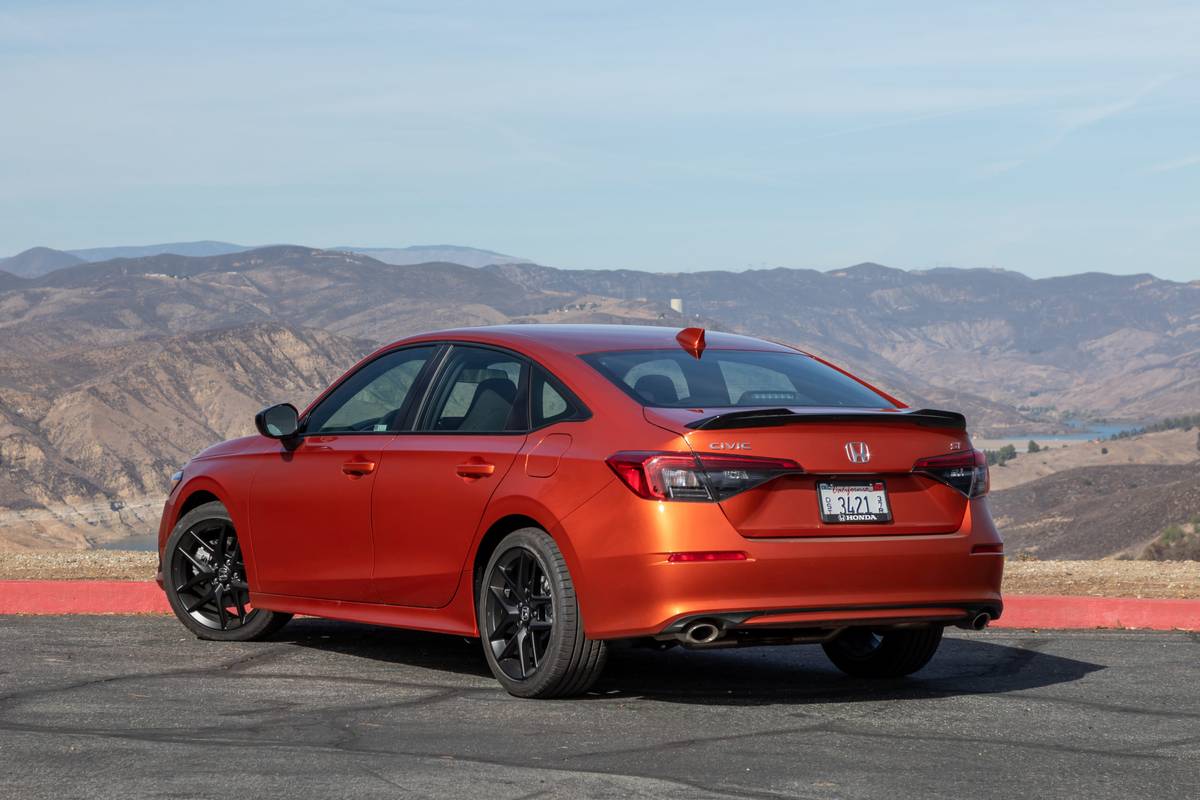 Honda's redesigned 11th-generation Civic line includes the all-new Civic sedan and hatchback, as well as a new Si performance variant. A super-performance 2023 Civic Type R hatchback is set to be released in 2022, but the Civic coupe, last seen for 2020, will not be returning at all.
The much-improved Civic — whose interior and drivability "elevate the car beyond its humble compact sedan class," according to Cars.com reviewer Aaron Bragman — swaps its former exuberant look for grown-up styling that has a strong family resemblance to the Accord. The new interior, however, has its own retro design, with a horizontal dashboard and the option of a high-mounted 9-inch touchscreen (a 7-inch screen is standard). Tech upgrades include wireless smartphone integration, and the top Touring model has a new 10.2-inch digital gauge cluster.
The Civic's lower trim levels have a 2.0-liter four-cylinder making 158 horsepower, while higher trims get a 180-hp version of the Accord's turbo 1.5-liter four-cylinder engine. The Si gets a 200-hp version of the 1.5-liter along with a six-speed manual transmission, limited-slip differential and sport-tuned suspension. You can read our driving impressions of the new Civic here and here.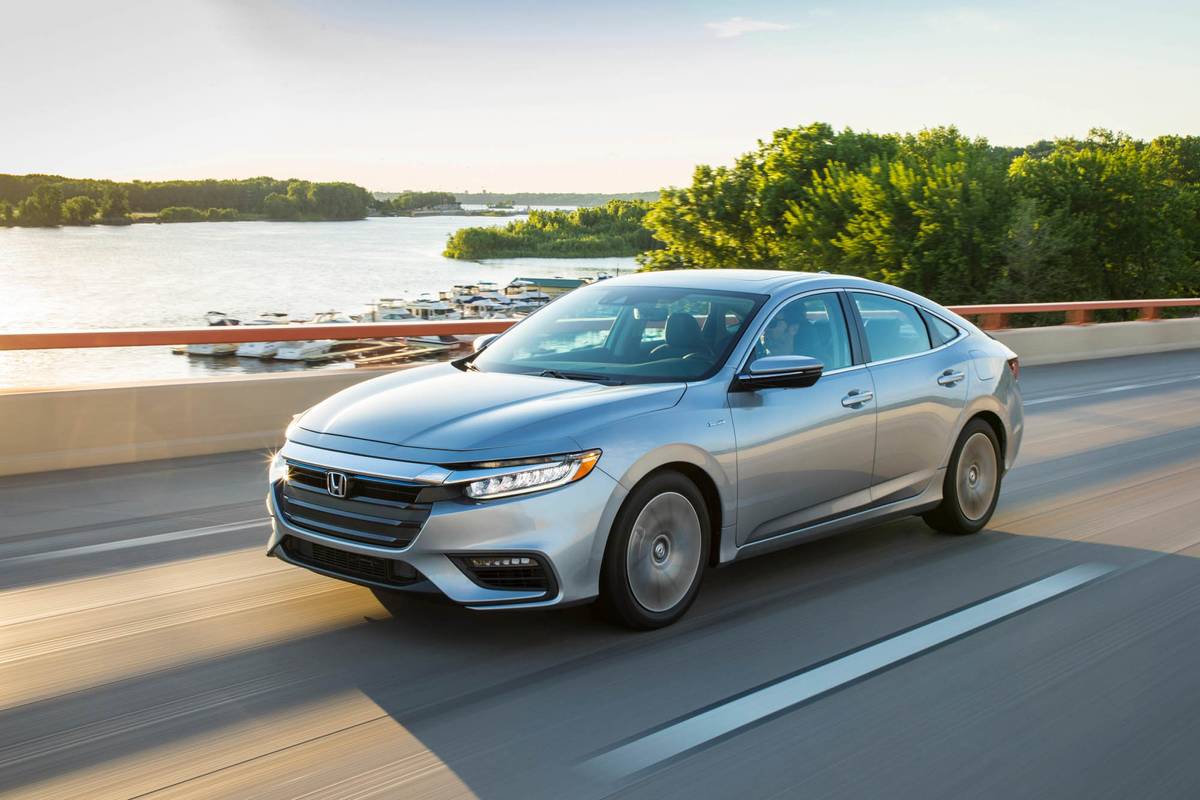 Honda's dedicated gas-electric hybrid sedan drops the base LX trim level for 2022. The extant EX and Touring trims remain unchanged.
Clarity
The Clarity plug-in hybrid and fuel-cell sedans have been discontinued for 2022. 
SUVs
Honda's entry into the competitive compact SUV class comes in gas-only and hybrid formats, with all-wheel drive now standard for the top gas-only trim, the Touring. There are no other significant changes to the gas or hybrid CR-V models. 
The subcompact SUV was refreshed a few years back and rolls into 2022 with no changes.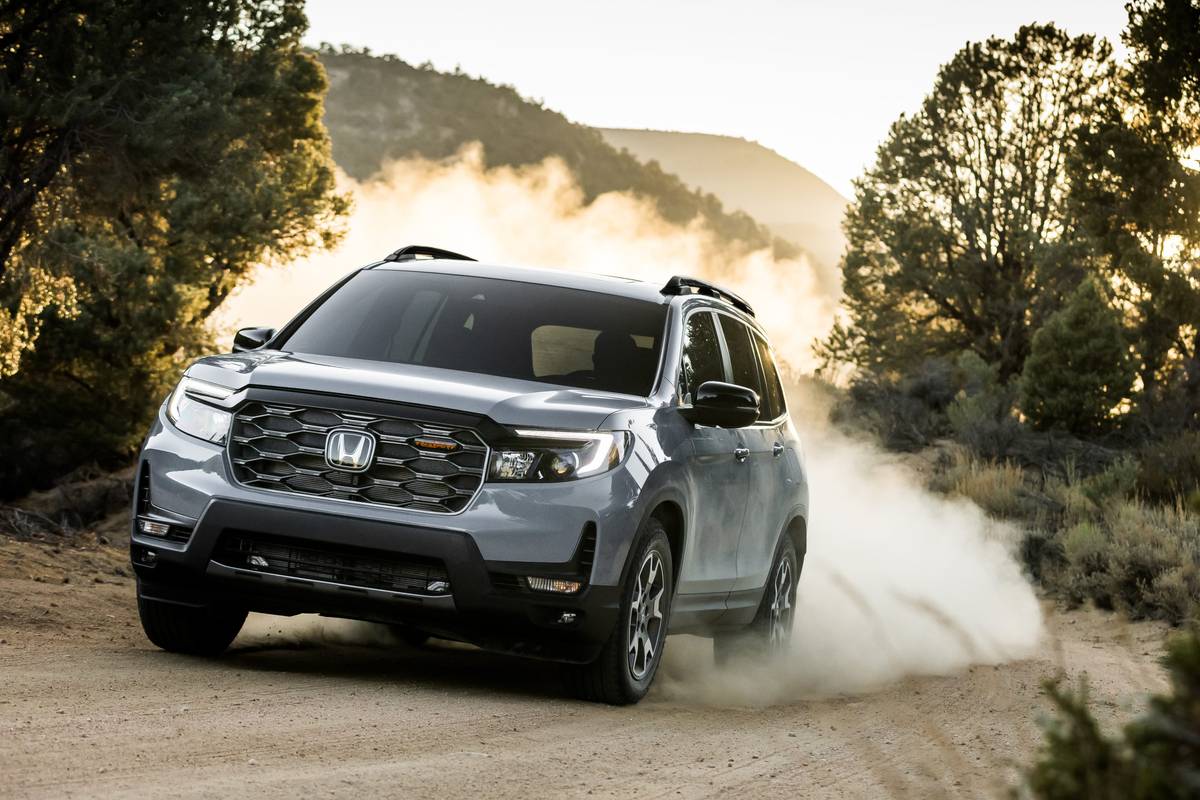 Honda's two-row mid-size SUV, based on the three-row Pilot, gets a more rugged-looking front end for 2022 as well as a new TrailSport model that promises additional, if mild, off-road flavor. The Passport also has a new rear bumper, larger dual tailpipes and new 20-inch alloy wheels (18s for the TrailSport).
The Passport's new face bears a family resemblance to Honda's latest Ridgeline pickup. Following the Ridgeline, the 2022 Passport will offer a new Honda Performance Development Package with more aggressive wheels, trim and graphics. The TrailSport is mostly an appearance package, as even its off-road drive modes aren't exclusive to the trim level (they're shared with the SUV's top Elite trim level).
The 2022 Pilot, Honda's flagship three-row SUV, replaces its lowest LX and EX trim levels with a single, more expensive Sport entry-level model. It features tech upgrades over the old base model, including an 8-inch touchscreen with smartphone integration. Little else has changed for the 2022 edition of the Pilot, which was last freshened for 2019.  
Pickup Trucks
Less than a year ago, Honda rolled out an updated version of its innovative mid-size Ridgeline pickup with a new front end that's more trucklike than smiley face, among other updates. Updates on the Ridgeline for 2022 amount to just a new paint color called Sonic Gray Pearl. 
Vans
Honda's family minivan got a light freshening and expanded standard safety features for 2021, and it heads into 2022 with one new paint color, Radiant Red Metallic II.
More From Cars.com: